98 Million Unwanted Robocalls a Day Reports USA Today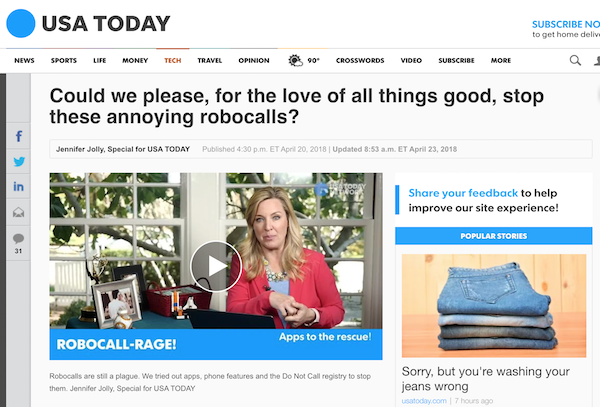 USA Today reports United States consumers receive an estimated 98 million robocalls each day and fraud from these unwanted calls amounts to $9.5 billion annually.
The April 20 article by Jennifer Jolly surveys options available to consumers including phone based spam blockers or apps available from wireless carriers. While some options are free, others charge fees to keep spam calls at bay.
The article also suggests registering on the National Do Not Call Registry, but notes some feel that practice doesn't help stem the unwanted robocalls.
Although the article focuses on technical solutions to alert consumers when a call may be fraud, or apps to report the calls to carriers, there is another option consumers have which is not discussed. Consumers who receive robocalls to their mobile phone or advertisements by text message may be entitled to recover money under the Telephone Consumer Protection Act, or "TCPA".
The TCPA makes it illegal to make calls using an automatic telephone dialing system or an artificial or prerecorded voice to cell phones, residential telephone lines or phones where the recipient is charged. The TCPA also prohibits sending text message spam or SMS spam to cell phones without the consent of the recipient.
The TCPA provides consumers can receive minimum statutory damages of $500, and in some cases up to $1,500 per robocall, spam text message, or junk fax.
Make them stop.
Our firm has used the TCPA to put a stop to unlawful telemarketing and obtained settlements and judgments for the recipients of their illegal advertisements. Information about unwanted robocalls, spam text messages, or junk faxes you have received can help us determine if you might have a claim against the telemarketer and might be valuable evidence in any future effort to stop the spammer. What you can do to help:
Step 1.
Save any records you have of the robocall, text message, or junk fax. This information may be necessary and valuable to prove a case against the spammer or telemarketer. If available, save a record of:
the caller-id information
date and time
any voice-mail
contents of the text message or junk fax (For robocalls it is very useful to make a quick note of the contents of the robocall while your memory is fresh.)
If you have a mobile or cellular phone, this information can be easily preserved with a screen shot showing the call information:
For an iPhone: press the HOME and ON/OFF buttons at the same time and release. You should now have a picture of your screen in the Photos app.
For an Android phone: press the VOLUME DOWN and POWER buttons at the same time, hold them for a second and release. You should now have a picture of your screen in the Gallery app.
Step 2.
Fill out the complaint form. We will use this information to help you make a formal complaint to the right federal or state agency and to match the information you provide with similar complaints to track down the senders.