Study finds teens driving with teens increase risk of fatal crashes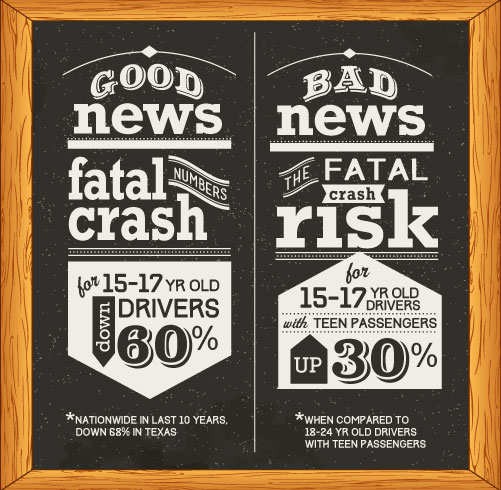 A study by the Texas Transportation Institute has concluded the risk of a fatal crash has increased for teens who drive with peers. The research study found novice teenage drivers (age 15-17) are approximately eight times more likely than young adult drivers (age 18-24) to have a fatal crash if teenage passengers are in the vehicle.
Even though the total numbers of crash deaths have dropped dramatically over the last ten years for young drivers, the relative risk for novice drivers with one teen passenger increased from 3.7 to 5.1, meaning in 2011 those drivers in fatal crashes were just over five times as likely to have had a young passenger than were young adult drivers. For carrying two or more passengers, the relative risk was 7.7 times more likely, up from 5.9 a decade earlier.
Adding to the significance of the worsening trend, researchers say, is that it happened during a time when many states were either implementing or strengthening their graduated driver license (GDL) laws. Those laws are designed to limit the risk exposure for young drivers by prohibiting late-night driving and limiting the number of young passengers they may have in a motor vehicle.